SouthGate Happenings!
See our complete church calendar at bottom of this page
SUNDAY'S MESSAGE
Upcoming Activities & Groups
SGLife Mobile App
You can turn our church website into an easy to use app on your mobile phone or device by adding it to your homescreen! Stay connected and informed on church events and take notes during Pastor's sermons on Sundays. It's also the easiest way to sign up and pay for upcoming activities, events and groups.
For more info and instructions click the button below.
SouthGate's 2019 Changing Lives Center Outreach
On Sunday, Oct. 27th we will be moving our Sunday Worship Service, including our Children's Ministry, to the Phoenix Rescue Mission's "Changing Lives Center" for women for a day of ministry and fun! This will be our 5th year at the center. There will not be any church services at SouthGate on the day of this event.
Following a worship service & children's church in the morning, we will be sponsoring a barbeque lunch and some fun activities for the women and children at the center. We would love to see everyone who attends SouthGate participate in this year's event. If you would like to participate, you can click here or text "changing19" to 480 524-0889 to sign up. You must sign up by 10/20. If you're not in a Connect Group that's sponsoring an activity, be sure to indicate where you would prefer to serve that day.
If you haven't attended this event in the past and registered on the Phoenix Rescue Mission's website, you must do so by 10/20 (if you don't register, you will not be allowed to attend). If you have a child under 18 who will be attending you must also fill out a youth liability release form. You can do both by clicking here.
Join us on the 10/27 and help us to be God's hand of blessing to this wonderful group of women and children!!!
Bruce T. Halle Activity Center Dedication
Join us on Sunday, November 17th as we celebrate God's incredible blessing and dedicate SouthGate's brand new Bruce T. Halle Activity Center! There will be lots of festivities and we'll be acknowledging those who gave and sacrificed to make this vision come true. A barbecue lunch will be served following the dedication.
A donation of $5. per person or $10. per family is not required but would be very much appreciated - October & November are our busiest outreach months of the year here at SouthGate and because of that they are two of our costliest months as well.
There will be no regular worship services on this date.
If you plan on attending you must register for this event - you can do so by using the button below or texting the word "dedicate" to 480-524-0889.
"MEN OF VALOR" MEN'S BIBLE STUDY
Beginning Oct. 23rd Mark Lawson will be leading a 7 week men's Bible study called "Men of Valor" which looks at the 4 pillars of a godly man's life. This study will meet on Wed. evenings from 7-8:30 p.m. in the church sanctuary.
For more info you can contact Mark at lawsonm@lesd.k12.az.us
Space is limited so sign up a.s.a.p. - if you'd like to sign up you can use the button below or text "valor" to 480-524-0889.
LADIES "PUMPKIN & PRAISE NIGHT" @SOUTHGATE!
Ladies... on Wed. Oct. 23rd from 6:30-8:30 p.m. we'll be praising the Lord and doing some autumn-appropriate crafts to celebrate fall season together. Join us for some fun, fellowship and fall-themed snacks! Bring a roll of toilet paper for the craft!
If you plan on attending this event, please use the button below to sign up.
SG Youth Group
Our SouthGate Youth Group meets on Wed. nights from 7-8:30 in our new Youth Bldg, Anyone in 7th-12th grade is welcome to attend.
Pastor Josh is currently going through a study through of Book of James. James had a lot of good, practical wisdom for everyday life. This study will challenge and equip you to live the life that God has called you to live!
Make new friends, have some fun and learn about God... we're saving a seat for you at SG Youth!
News & Info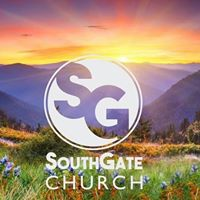 SouthGate's Facebook Page
Hey SouthGate Family - We need your help!
We've recently implemented Outreach Social, which automatically posts beautiful, inspirational graphics on our Facebook page every day (https://www.facebook.com/ SouthGateAZChurch/).
Some are Bible verses, inspirational sayings and quotes, as well as conversation starters. All we need you to do is like, comment and share them with your friends. That?s it - easy peasy!
So... here are your next steps:
Follow us on Facebook (https://www.facebook.com/ SouthGateAZChurch/)
Like and comment on our daily graphics to build our engagement
When you see posts you like, share them with your friends
Oh and one more thing, if you take pictures at church events, please post them on the church's Facebook page. This will help show people how great our church family is!
Thanks for your help!!!
SouthGate Calendar of Events
SEE YOU THIS SUNDAY AT SOUTHGATE!!!