SouthGate Happenings!
See our complete church calendar at bottom of this page
SUNDAY'S MESSAGE
Upcoming Activities & Groups
"Stepping Up:A Call To Courageous Manhood"
Based on his book Stepping Up, Dennis Rainey, along with Matt Chandler, Bill Bennett, Robert Lewis, Voddie Baucham, Stu Weber, and others unpack what biblical manhood looks like and what it means to be a godly, courageous man in today's world. Through engaging stories, expert teaching, humorous vignettes, man-on-the-street interviews, and personal insights, these men's ministry leaders call every man to become courageous leaders in their own lives, marriages, churches, and communities.
This is a 10 week study that will take place on Wed. evenings from 7-8:30 in the church sanctuary beginning Jan. 22nd. The cost of the workbook for this study is $12.00
You can view the trailer for this study below.
If you wish to attend for the study please be sure to use the button provided to sign up so we can have enough materials on hand at the 1st meeting. (You can also sign up at church on Sunday or text "step" to 480-524-0889)
"MISS VIRGINIA" MOVIE EVENT
We have obtained 40 free passes to a movie you won't want to miss,especially if you have school aged children and have wrestled with the difficult choice of keeping your your child in an under performing public school system that is often in conflict with your family's values or sacrificing financially so they have the opportunity to attend a private school.
Movie description: An impoverished single mother is losing her 15-year-old son to the rough streets of Washington, D.C. Unwilling to see him drop out and deal drugs, she places him in a private school. But when she can't afford the tuition, she soon launches a movement to change the system that is destroying him and thousands of others.
Click here to watch the movie trailer.
The movie event will take place on Mon. Feb. 3rd at 6 p.m. at the Harkins Theater at The Tempe Market Place.
Tickets will be handed out on a 1st come 1st serve basis. If you would like tickets you must register by using the button below. Please don't sign up for tickets unless you're sure you can attend.
SG Youth Group
Our SouthGate Youth Group meets on Wed. nights from 7-8:30 in our new Youth Bldg. Anyone in 7th-12th grade is welcome to attend.
Pastor Josh is currently teaching a series titled "Identity Crisis" which looks at how we identify ourselves in relation to our community, culture and church.
Join us for some awesome worship, solid teaching from God's Word, fellowship and a lot of fun!!!
News & Info
SGLife Mobile App
You can turn our church website into an easy to use app on your mobile phone or device by adding it to your homescreen! Stay connected and informed on church events and take notes during Pastor's sermons on Sundays. It's also the easiest way to sign up and pay for upcoming activities, events and groups.
For more info and instructions click the button below.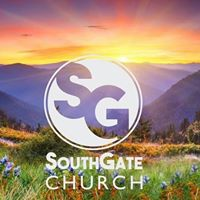 SouthGate's Facebook Page
Hey SouthGate Family - We need your help!
We've recently implemented Outreach Social, which automatically posts beautiful, inspirational graphics on our Facebook page every day (https://www.facebook.com/ SouthGateAZChurch/).
Some are Bible verses, inspirational sayings and quotes, as well as conversation starters. All we need you to do is like, comment and share them with your friends. That?s it - easy peasy!
So... here are your next steps:
Follow us on Facebook (https://www.facebook.com/ SouthGateAZChurch/)
Like and comment on our daily graphics to build our engagement
When you see posts you like, share them with your friends
Oh and one more thing, if you take pictures at church events, please post them on the church's Facebook page. This will help show people how great our church family is!
Thanks for your help!!!
SouthGate Calendar of Events
SEE YOU THIS SUNDAY AT SOUTHGATE!!!